We invite you to join us on a south trip to
Rocky – Zabarged – St. John – Fury Shoal – Elphinstone
08 -15. 12. 2022
Boat M/Y Capt.Sparrow
Supper luxury yacht
Year of construction: 2019
Dimensions: 43m long – 8m wide
Capacity: up to 28 divers at 12 double rooms and 2 suite
All cabins contain a bathroom, air conditioner, mini bar, towels, and warm blanket
3 covered areas: 2 saloons and a restaurant
2 large sundecks
Sauna
Jacuzzi
Massage chair
Inflatable swimming pool/ side sliding/ banana
Nitrox and Trimix: available on board
Wi-Fi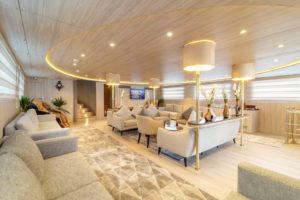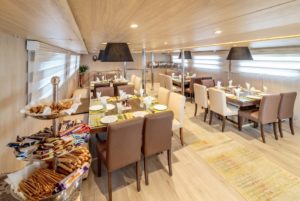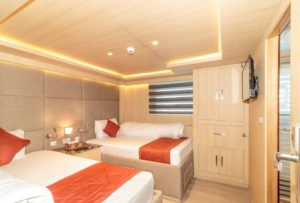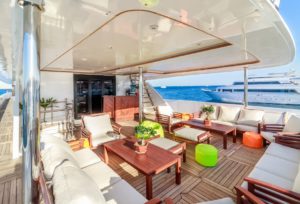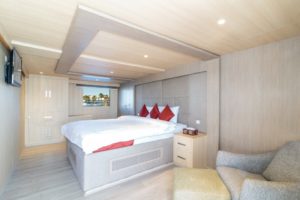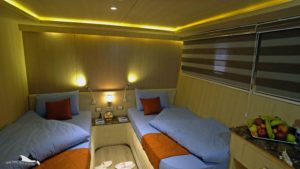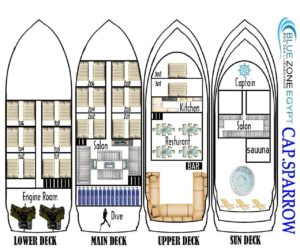 Schedule
08.12 Arrive – check-in at Port Galib
09.12 Abu Dabab (check dive) – Shaab Marsa Alam (check drift dive)
10.12 Rocky 2 dives – Zabarged – Night Dive
11.12 Habili Ali – 2 dives – Dangerous Reef – Night Dive
12.01 Small St. John – St. Caves 2 dives – Night Dive
13.01 Sataya – Malahi- Claudia
14.02 Elphinstone – Back to port Galib
15.02 Check-out
* Plan can be changed according to weather conditions
Price Incl.
– Full-board accommodation
– Transfer
– Port Galib fee
– Dive guide
– 12L tank and weights
– Wi-Fi
Price Excl.
Flights
Inter visa 25 Euro/Person
Staff tips 80 EUR / week
Environmental fee 50 EURO / Person
Available with extra price
Nitrox single tank 80 EUR – Twin tanks 100 EUR/ week
Rental equipment 50 EUR each pace
15 L tank 40 EUR/week
Stage tank 40 EUR/week
Twin tanks 80 EUR/week
Tech and Rebreather service
Dive site highlights
Zabarged Island
This island was in the past exploited by ancient Pharaohs, Romans and, more recently, the Egyptians who mined its precious green olivine mineral. Situated 46km southeast of the Ras Banas peninsular and 20km due east of St John´s well-known reef system, Zabarged is a large island encircled by reefs and with several lagoons that offer Liveaboard well-protected moorings.
This is a well-known breeding site for Green Turtles and on the sandy beaches of this Island, over 2.000 nests have been reported. This is an extremely important and fragile process that could easily be destroyed. It's a good thing that this island is located far from shore and likely to escape tourist developments which have destroyed many of the breading beaches along the coastline.
There are also a couple of wrecks including the Russian "Spy Ship" Khanka (left & right).
The reefs on the south side are relatively shallow walls with coral pinnacles rising from the gentle slopes creating overhangs and swim-through that add interest to the dive. The shelf next to the walls progressively plunges down into deeper water. Most liveaboard only use this dive site for night dives but it is really pretty and is worth a dive during daytime as well.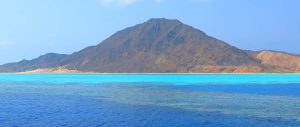 Rocky Island
Over 5km southeast of Zabarged, Rocky lying reef with steep walls falling away into the abyss. More exposed than Zabarged Liveaboard tend not to overnight here. The north face takes the brunt of the prevailing weather and currents so the corals fare less well but the flip side is the presence of numerous pelagic species notably hammerheads, as well as large groupers and Napoleon Wrasse. The coral growth is best on the east side with coral blocks and an open plateau. Rocky is also the location of the wreck of the Maiden, very much a deep wreck for tech divers only.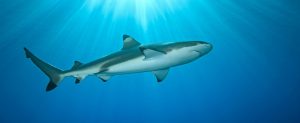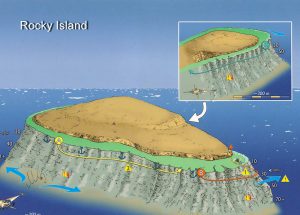 St. Johan
St. John's reefs lie on the tropic of cancer, south of Ras Banas. Between the coast and Zabarged Island, almost 150km south of Marsa Alam.
St John covers an area of 290 km2 and offers a greater diversity of diving in the Red Sea. Its astonishing coral walls, coral garden, and caves.
The depth of St. John goes down to 200m and attracts act lots of reef sharks. Also, Hammerhead, Oceanic whitetip and thresher sharks. Other pelagic creatures found in the area as bottlenose Dolphins, Sea turtles, Jacks, Tuna and Barracudas.

HABILI ALI
Habili is the Arabic word for a reef that never breaks the surface is an oval-shaped reef and is the easternmost diving point of St. John's. Its walls and ridges are full of beautiful coral, with great specimens of Elkhorn coral, blue coral, large gorgonian fans, many whip corals and black coral forests. Drift diving is the best way to admire the inlaid coral and reef fish living in the steep walls.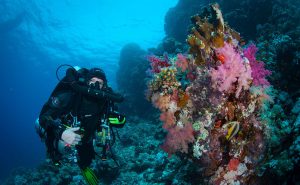 Dangerous Reef
The most south dive site in the St. John area, it takes a diamond shape. On the south tip of the diamond, there is a sandy sloping bottom with hard coral down to 30m. The main reef has some fissures making small tunnels, some of the tunnels have a full overhead environment, but you are never far from a visible exit. Out of the tunnels east or west a good coral garden.
The dangerous reef is best chosen after the deep dives and offers us shelter for the night and excellent night dive.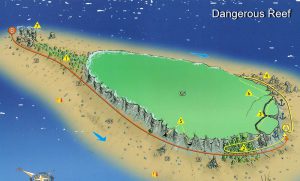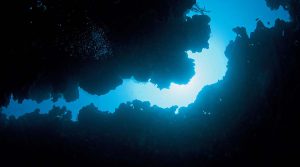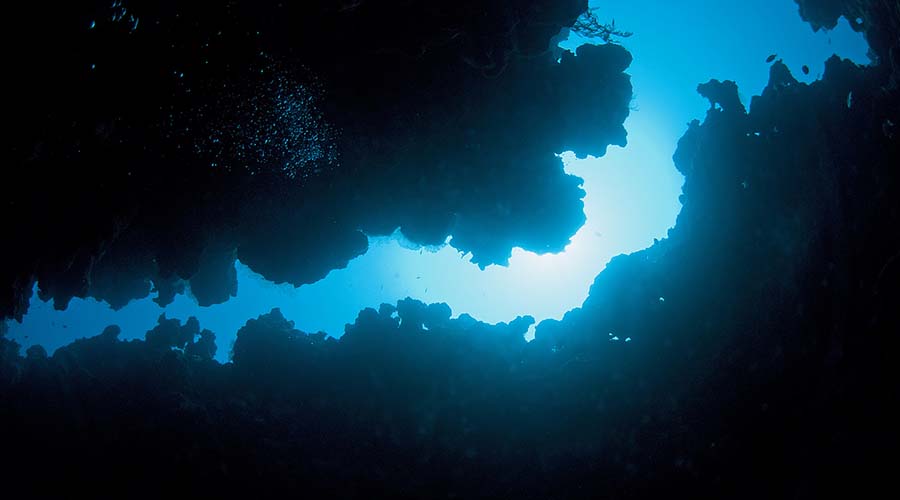 Small St. John
Small reef with the best drops off at the area, all the sides are slope off and droop off to deep, covered with soft coral, gorgonian and black coral growing on the walls. The south edge of the reef is full of hard coral and conical-shaped coral.
Satya (Dolphin Reef)
Very large horseshoe-shaped reef. Out part drop off, inner part shallow sand lagoon – perfect conditions for dolphin
The East side is a mix of drop-offs, pinnacles, a stony plateau, and a coral garden.
Satya become the most famous destination for free diving and snorkeling trips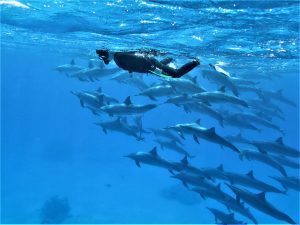 Malahi
Surrounded reef hangs at sandy seabed at a depth of 18 to 20 m. The reef formation is like a playground of craggy corals with 6-8m depth.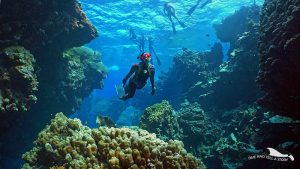 Claudia
Small reef hanging at the sandy bottom at a depth of 20m, The west side of the reef features an abundance of beautiful hard coral formations with stony and boulder corals. On the southern side of the system, there is a spacious cavern with an opening in the ceiling, allowing the sunlight to penetrate and create a fascinating atmosphere inside the cavern.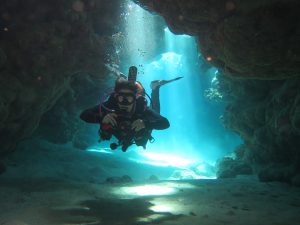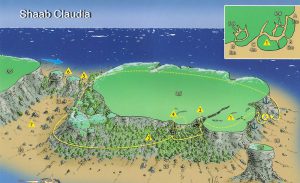 Elphinstone
One of the best dive sites in the world, located 30Km North of Marsa Alam, 12Km from the shore. Elphinstone is a very tiny reef as a cucumber-shaped reef hanging in deep water which offers spectacular wall drift diving with wonderful coral. At each end, an 80m long, slender plateau reaches out into the blue. Each one has got its own significant main characteristic feature.
The north plateau has a crack across the very tip creating a separate pinnacle in the extension of the plateau
The south plateau has an arch-like tunnel running through the base where according to the legend a Pharaoh is buried in a sarcophagus. How this legend started off is not hard to grasp when visiting the tunnel. In its middle, a perfectly shaped block of the right size resembles a coffin or sarcophagus.
The east and the west walls are equally good, so the sun angle is the main consideration. Generally, it can be said that after a visit to the end of either plateau it's worth getting to a shallow depth as soon as possible